Gather with Friends and Family for the Ultimate Entertainment
The Latest Home Theater Systems Bring the Immersive Cinematic Experience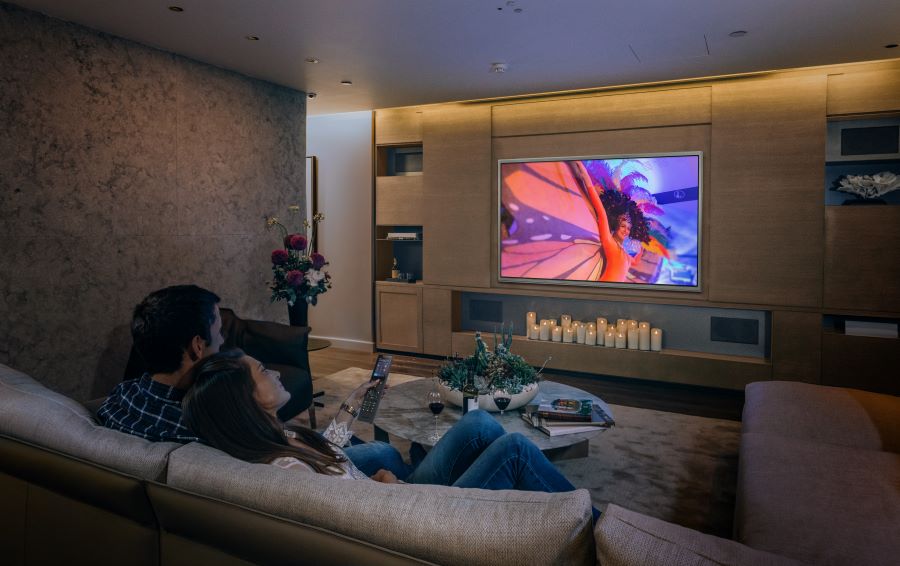 It's that time of year when we gather with friends and family around the fireplace, sharing stories, great movies, hot drinks, warm buttered lobster rolls, and Boston crème pie. Is your home entertainment ready for cozying up over the winter and enjoying the best this season offers?
Home theater systems have transformed dramatically over the years and are defined differently by every family. Some enjoy the designated home theater with plush, tiered reclining seats, wall-filling movie screens, and fiber-optic starlit ceilings. However, growing in popularity is the more casual media room, a space where friends and family gather to watch the latest blockbusters and the big game, whether the Boston Celtics, Red Sox, Patriots, or Bruins!
The one thing these concepts have in common is premier audio-video technology that enables viewers to suspend their disbelief for a few hours—taking them into the scene, from the jungles of the Amazon to the 50-yard line.
Let's explore the latest AV equipment that makes this possible and how it's transforming homes in Boston, MA, and all of New England.
SEE ALSO: A Modern Take on Home Media Rooms
The Lifelike Image
Depending on the room and its use, homeowners usually choose between the large 4K flat-screen TVs or the latest 4K projectors and movie screens. One of our partners, Sony, offers home theater solutions in both formats. Sony's TVs, including the OLED and Bravia XR-X95J, provide near-infinite contrast ratio and vivid, lifelike images and color. They also support Dolby Atmos.
In 2022, this entertainment brand came out with its native 4K projector lineup. These projectors offer best-in-class visuals, with extreme clarity, vibrant images, and over a billion colors, providing the ultimate home cinema realism.
Some of our clients also want to experience the best entertainment without seeing the equipment that provides it. In these spaces, we integrate hidden technology, whether TVs that transform into paintings and photographs or screens and displays that hide behind panels or in furniture, ceilings, and floors.
The Ultimate Surround Sound
Today, homes have access to audio technology once relegated to the finest movie theaters. Through strategic placement and calibration of speakers and subwoofers, from floorstanding loudspeakers to nearly invisible in-wall and in-ceiling speakers, you can experience immersive surround sound. A few of our many partners in this field include Paradigm and Leon. These brands offer high-fidelity speakers compatible with Dolby Atmos, the ultimate audio experience that surrounds the listener in a 3D bubble of sound.
The Movie Server
If you've yet to hear about Kaleidescape, it's time to check it out. This movie server has transformed how movies and music are enjoyed and redefined the home entertainment experience. It offers the largest selection of high-fidelity 4K UHD movies and boasts over 14,000 titles. It supports lossless Dolby Atmos or DTS:X audio and also integrates with home automation, dimming the lights and closing the shades as the titles roll.
At Audio Concepts, we combine the latest in audio and video technology and home automation to create entertainment spaces that exceed our clients' expectations. To learn more about the many possibilities in home theater systems or to schedule a complimentary consultation, contact Audio Concepts today.