Outdoor TVs That Take Open-Air Fun to the Next Level
TVs Made to Withstand Outdoor Elements and Shine as Bright as Natural Light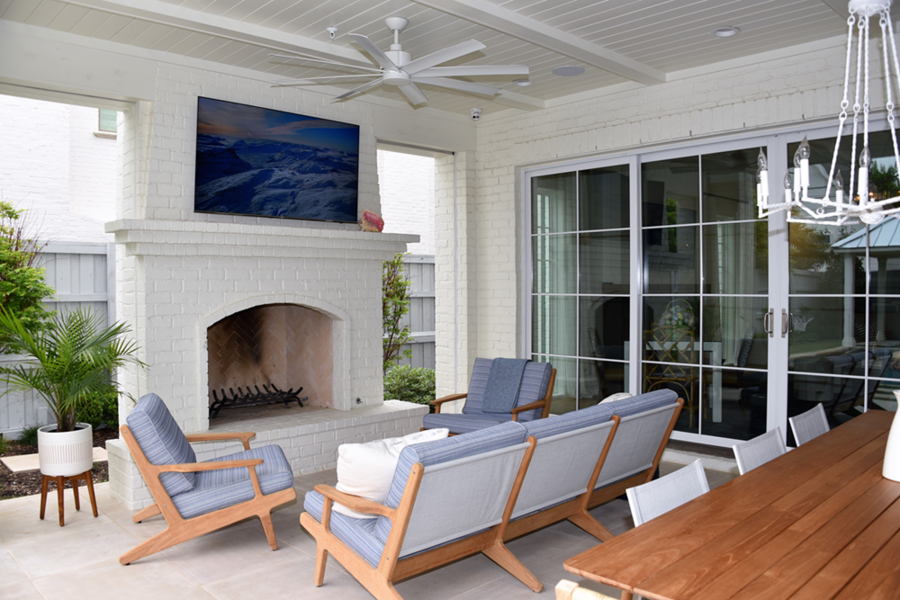 As the long, cold days of winter leave us and summer is around the corner, homeowners in the Newport, RI, area are ready to get outside and enjoy their backyards. If your outdoor entertainment area isn't ready for long afternoons in the sun, now is the time to bring smart technology like outdoor TVs to ensure you have a summer filled with fun.
An outdoor entertainment area needs a very specific television, and any TV from inside won't do the job. In this blog post, we're sharing our favorite outdoor TVs that will make you enjoy spending time in your backyard even more. Let's dive in.
SEE ALSO: Get Your Outdoor AV Essentials Before the Summer
Séura
Did you know that indoor warranties are voided when you put your television outside? In fact, putting an indoor TV outside in the full sun for just 15 minutes puts your television out of its operating temperature range. We love recommending Séura outdoor TVs because they're built with thermal controls to withstand multi-climate temperatures, all while providing the exceptional and reliable performance you need to entertain your family. Séura's TVs are IP tested to withstand dust and water ingress and are even backed by a two-year warranty for your peace of mind.
When you're enjoying the big game or your favorite TV show on your outdoor TV, you don't want your audio to be subpar. Séura's weatherproof outdoor soundbars project sound toward you to deliver the high-quality audio experience you want. Their TVs even come in a wide variety of large and sleek designs to fit seamlessly into your outdoor space.
SunBriteTV
SunBriteTV is known as the leader in outdoor televisions for a reason. SunBrite TVs are specifically engineered for safe, permanent outdoor installation and can handle any outdoor elements your backyard might face, including rain, snow, salt air, extreme temperatures, and even insects.

While SunBrite has various options for you to choose from, all of their televisions share the same features that make them a great choice for your backyard. Every SunBrite television has a brighter resolution than indoor TVs, weatherproof cable connections, and a warranty that's valid for outdoor use. Plus, SunBrite has TV models for fully shaded areas, partial sun, and full sun areas.

Do you need help choosing the perfect outdoor TV for your backyard this summer? The Audio Concepts team is prepared to help. Schedule a no-obligation consultation by giving us a call or filling out our online contact form. We look forward to hearing from you!

No video selected.