3 Perks of Adding Smart Home Services Before the Holidays
Whether You're Traveling or Staying In, Here's Why a Smarter Home Is a Gift to Your Family!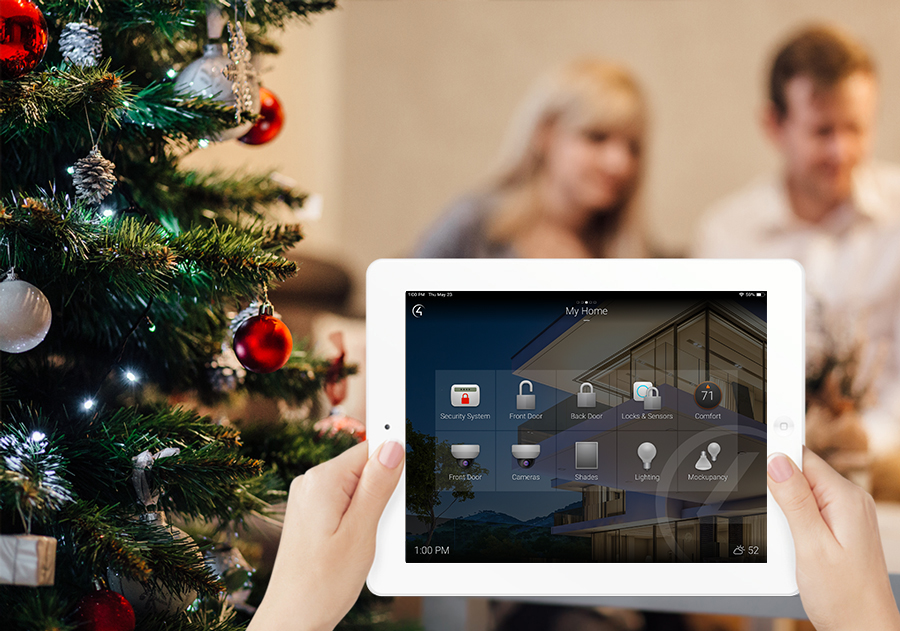 Many of us follow the same pattern: as soon as Halloween ends, we skip right over Thanksgiving and straight into dreaming of the winter holiday season ahead. You start asking yourself questions, like whom you're buying gifts for, what your dinner spread will look like, and either start to book plane tickets or prepare for company.

Also, we're arriving on not only a new year but also a new decade. Still using first-generation automation devices or DIY systems? The end of the year nudges many homeowners to upgrade.

We'll walk you through the benefits of Audio Concepts' diverse smart home services, specifically how they'll benefit you whether you're staying home for the holidays or traveling. We explain how automation helps in either scenario and why we think now's the time to customize your Newport home.

SEE ALSO: Check Out Our Past Projects and Installations in Our Image Gallery

Going Away?
A poll by the American Psychological Association revealed that eight out of ten Americans anticipate stress as the holidays loom. Though a season of joy, the holidays also present some travel hassles and unknown factors.

For example, what if you forget to lock the door behind you? How will you know your home is safe for a week while you're away? What if a break-in or fire occurs? If you don't have a smart home, you have every reason to be concerned.

However, we can connect an easy-to-use automation suite, like Control4, to remote access and security features, ensuring that you can inspect your whole residence, anytime. Lights, music, outdoor surroundings, door locks, surveillance and more all fall within your control, and we'll program your system to send notifications for anything you request.

Staying In?

Taking a staycation with immediate family? You'll find that there's no place like your smart home for the holidays. Light up the whole home with LED lighting, and control indoor and outdoor lights with one control pad. We can even add some festive, color-changing LEDs to the mix that you won't have to climb around to manage.

Security features don't just serve you when you're away! Millions of Americans notice an uptick of porch piracy around this time of year, and this rate keeps growing as online shopping rises. Catch these "porch pirates" in their tracks by investing in a security system that sends you a notification every time someone steps near your door. You can also ensure that packages make it safely inside by granting delivery professionals access inside through video doorbell and smart locks, both of which you can access remotely.

Holiday Hosting?

We think festive lighting and whole-home music feels even more special when you're surrounded by a house full of loved ones. Want to give a welcoming first impression? Start with a safe path to your door. We'll connect sensors to your outdoor lighting, so a pathway will light up as soon as someone pulls up to the drive.

Entertain guests with whole-house music and movies that suit every taste. Holiday music selections can feel divisive, with some people preferring fun classics like "Rocking Around the Christmas Tree," while others associate winter with Trans-Siberian Orchestra's chilling, ethereal style. Movie selection often fares similarly, with some family members insisting that "A Nightmare Before Christmas" enhances the holiday spirit, while others want to watch "It's a Wonderful Life" on repeat. What can you do?

Control4's new OS 3 lets you have it all with its new Active Media Bar, which nimbly controls all of your AV zones. You can perform nearly unlimited media control tasks - pause a movie that's playing in the living room, skip a song in the dining room, adjust volume all around the house, create "favorite tracks" and more.

Contact Us Today!

Ready to make your holiday season merry and bright, as well as safe and efficient? Call us at (508) 699-8819 or contact us here to get started on a free consultation, or visit our Boston showroom to see the products we mentioned above in action. We look forward to hearing from you soon.

No video selected.